OILEAIN ARANN
Aran Islands (Gaelic Arainn), also called Arana Naomh, a group of three small limestone islands off the coast of County Galway across the shipping lanes to Galway Bay in western Ireland. The largest island is Inishmore (Inis Mór), second Inishmaan (Inis Meáin) and the smallest one is Inisheer (Inis Óirr). The islands are under the jurisdiction of th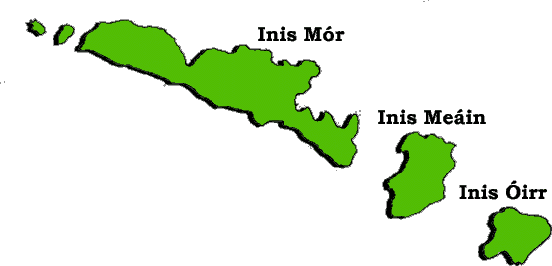 e city of Galway. The islands contain many prehistoric and early Christian hill forts.

Inishmore is the largest of the islands and boats call here from Galway. Inishmaan and Inisheer are only accessible by currach, which is a primitive type of boat. The community of the Aran Islands are Gaelic speaking and they live and work in very inhospitable and difficult conditions.

For two thousand years or more Aran Island natives of Celtic stock have subsisted primarily by farming and fishing. Two centuries hence tourism was added as a third and vital industry. The life of the island's fishermen was depicted in a play, "Riders to the Sea" written by the Irish dramatist John M. Synge in 1904.

The Aran islands have long been a magic place for artists and writers and during the tourist season people come hundreds a day to themselves experience that magic. Many come just to experience the customs and language of the native islanders who speak Gaelic, and provide céilithe (customs), modern social gatherings which feature old Irish folk songs and dances.

For those of the archeological and history bent, there are historic landmarks aplenty to visit. Throughout the islands one can visit the ruins of ancient fortifications, castles and dolmans constructed far back in pre-Christian times and the iron age, and allow their imaginations to wonder freely about how Aran Islands people lived and died in ancient times.

Newer ruins include churches and monasteries constructed in early Christian times, like the 9th-century Tempall Brecan and the House of Saint Edna, the most important religious settlement on Inishmore.

While most of the native islanders can speak English, most choose to speak their native Irish language, sometimes referred to as Gaelic, which employs parts of old Celtic languages. The tourists seem to like it that way and the islands have earned the reputation as the last place in Ireland where native Irish people still hold to their traditional ways.
Other Aran Isles Websites
Cultural Links
Cultural Links
Other Links
Other Links