While In Paris, Synge carried out a true bohemian life, became integrated into the literary circle and thus was familiarized with both the anarchistic and socialist theories. He was also interested in the literary movements of avant-gardes Maeterlink and Mallarmé in the medieval theatre, Molière and the playwrights of his time, and in particular Ibsen, the author of the Ghosts and Doll's house.
It was in 1896 that Synge met Yeats in Paris. Two years later, he undertook the first of a series of voyages which would mark affect him deeply: each year, from 1898 to 1902, he visited the Islands of Aran (three small barely inhabited islands off the West coast of Ireland) and Mayo county where he wrote The Playboy of the Western World.
In 1901, Synge wrote a first part, When the Moon Has Set, but it was turned down by the Irish Literary Theatre. Then, in the following year, he wrote two tragedies: Riders to the Sea and In the Shadow of the Glen. In 1903, he again returned to Ireland where he wrote Riders to the Sea. It played in Dublin in 1904 and then in London.
This same year, Synge finished The Tinker's Wedding but because of its anticlericalism, this play would not be staged in Ireland until 1971.
In 1905, his play The Well of the Saints was staged in the Abbey Theatre. Synge was a co-director along with William Butler Yeats and Lady Gregory.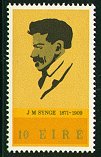 Synges reputation grew and his plays wre translated and published abroad. On January 26, 1907, the first of his masterpieces, The Playboy of the Western World, started a riot as the strength of the language and the behavior of the characters shocked the Irish elite.
That same year, Synge published his final work, The Aran Island, with splendid prose devoted to the small archipelago and to its population. Racked with cancer, he died in 1909 at the age of 38. His last play, Deirdre of Sorrows, which wrote on his deathbed, was staged in Abbey the following year. It was renowned for its extraordinary direction of language and its talent to combine realism.
In later years, Synge was recognized by the Irish Government with the issuance of a commemorative postage stamp bearing his likeness.